Search The Horse Genetics Website (opens in a new tab) 

horse genetics blog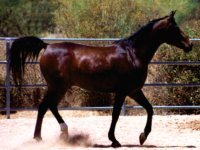 Thank you for visiting the horse genetics web site. This blog helps keep you up to date with changes and additions to the site. There is material covering numerous aspects of horse genetics, including basic equine and horse color genetics. Thanks also to all those kind people who helped by providing photos, and to those others who helped with their thoughts and ideas. Happy reading, I hope you find what you're looking for.
Mar 01, 2016
Eye color of classic champagne dun Lukas
Classic champagne dun horse Lukas has one amber and one blue eye.