Mono- and di-hybrid crosses do not always give the classical 3 : 1 and 9 : 3 : 3 : 1 Mendelian ratios. This may be because the genes are linked on the same chromosome (for a dihybrid cross) or because they're on the sex chromosomes (sex linked). In addition the expression of the genes in the phenotype can affect the ratios, especially where there is an interaction between genes.
In the examples so far only simple gene action was considered. For each gene one of the alleles has always been completely dominant over the other in the heterozygote. In the case of two genes the genes control two different characters and act separately from one another. Often the situation is more complex than in these examples.
In cases of complete dominance the heterozygote has the same phenotype as the dominant homozygote. This relationship between a pair of alleles provides the simplest situation for study.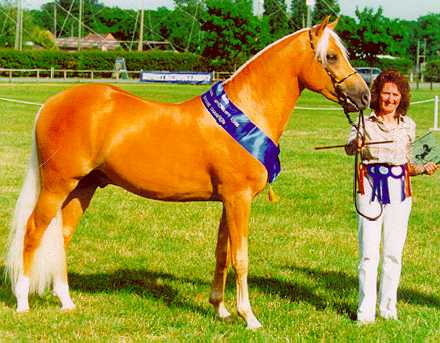 With partial dominance (also called semi-dominance or incomplete dominance) the heterozygote exhibits a phenotype which is intermediate between the homozygous forms. There's a well known horse genetics example, that of the cream dilution gene (the C locus).
Alleles at the C locus are responsible for the palomino, buckskin, smokey black, cremello, perlino and smokey cream. The two known alleles are designated C+ and CCr. CCr shows partial dominance and dilutes red to yellow in a single dose and to pale cream in a double dose.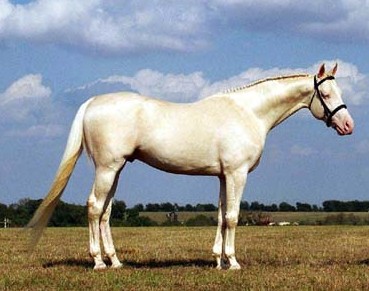 Horses with a chestnut base color and genotype C+C+ are chestnut, while those of genotype CCrCCr are cremello. Horses of genotype C+CCr are palomino, a color intermediate between the phenotypes for the homozygous forms. Similarly horses with a brown or bay base color and genotype C+C+ are brown or bay, while those of genotype CCrCCr are perlino. Horses of genotype C+CCr are an intermediate color of buckskin. Cream dilution can have a very subtle effect on black pigment and horses with a black base color are diluted to smokey black (C+CCr) or smokey cream (CCrCCr). The wild-type C+ allele is effectively recessive since it needs to be homozygous for there to be no dilution of the base color.
The phenotypic ratio for a monohybrid cross, e.g. a cross between two palominos, is modified to 1: 2: 1 chestnut: palomino: cremello. This is the same as the genotypic ratio since the heterozygotes are of a separate phenotype (i.e. heterozygotes are palomino and not cremello, as they would be in the case of complete dominance of the CCr allele).
Genetic contribution from mare:
50% chance of either allele in the egg
Genetic contribution from stallion:
50% chance of either allele in the sperm
C+
CCr
C+
25% chance: C+C+
chestnut
25% chance: C+ CCr
palomino
CCr
25% chance: C+ CCr
palomino
25% chance: CCr CCr
cremello
In co-dominance both alleles are expressed in the phenotype and the heterozygote has the characters of both parents. The inheritance patterns for co-dominance are similar to those for partial dominance.
The best known examples of co-dominance are those of the blood groups, for example the AB blood group where animals with blood group AB have both A and B type antibodies in their blood. These aren't specifically horse genetics examples but many mammals have blood groups in common and their genetics is same.
There are also loci with alleles made up of non-coding DNA, i.e. DNA that isn't responsible for any external phenotype characters. Such loci can have lots of different alleles (because they don't "do" anything mutations aren't harmful to them and lots of variation can build up without natural selection throwing it away). Some of these loci are useful as genetic markers in molecular genetic studies. They have, for example, been used to find genes for some important horse genetic disorders, such as equine combined immune deficiency disorder (equine CID, discussed elsewhere in relation to linkage). These loci have phenotypes only at the level of a molecular genetics test, but there inheritance is nevertheless co-dominant in as much as both alleles at a locus can be detected.
There are a few well known horse genetics examples of lethal alleles, including the white allele, the overo allele and possibly some variants of the roan allele. Lethal alleles result in modified ratios among surviving foals.
Two alleles are known for the gene for white coat colour, symbolised WW and W+. Most horses are not white and have genotype W+W+. The WW allele is rare in most breeds of horse, but occurs in Tennessee Walking Horses, American Albinos and Miniatures, and rarely in Arabians, Standardbreds and Thoroughbreds. Horses with the WW allele are dark-eyed horses with white coats. WW is dominant over W+, so that horses of genotype W+WW are white.
No horses are known with the genotype WWWW. Breeding between white horses always produces some coloured foals, indicating that the horses are heterozygous. It would seem that embryos or foetuses homozygous for allele WW die early in gestation and are then either resorbed or miscarried. WW is therefore acting as a recessive lethal allele. We therefore say that the allele WW is dominant visible and recessive lethal.
The following diagram shows how the standard 3:1 ratio of a monohybrid cross between white horses is modified to a 2:1 ratio typical of recessive lethal genes.
Genetic contribution from mare
Genetic contribution from stallion
WW
W+
WW
WWWW
Dies in utero
WWW+
White
W+
WWW+
White
W+W+
colored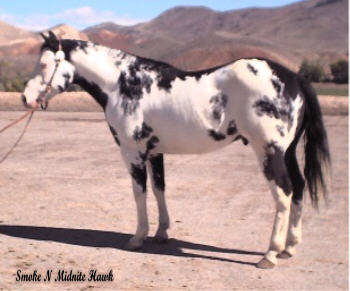 A second well known horse genetics example of a lethal gene is that which causes the white pattern in overo horses. There are various different genes that cause white coat patterning in paints or coloured horses, and overo is genetically distinct from other white patterns such as tobiano and sabino. Overos are heterozygous for a gene that is lethal when homozygous. Thus the overo allele (OO) is dominant for colour pattern but has a recessive lethal effect. The allele shows pleiotropy, which means they have more than one effect on the phenotype (affect more than one character). Homozygous foals (OOOO) are all-white with blue eyes and die of complications from intestinal tract abnormalities. Both melanocytes (pigment cells) and ganglia (nerve cells) are migratory cells that originate from the same area of the developing foetus known as the neural crest. The all-white foals lack both pigmentation and nerve cells in the intestinal tract (aganglionosis).
When two heterozygotes are bred together an average of 25% of foals are lethal white. Surviving offspring are either overo or solid coloured. Matings between solid and overo horses result in solid and overo foals in approximately equal numbers, with no lethal white foals. Occasionally, however, horses without noticeable body spotting patterns have sired or produced lethal white foals. The overo spotting pattern is phenotypically heterogeneous (i.e. it varies a lot) and it is possible that such horses show insufficient white spotting for registration purposes, even though they have the overo genotype. (Another possibility is that the overo mutation occurs "de novo" in the gametes of one parent.) Breeders would obviously like to be able to recognize horses at risk of producing lethal white foals. Until recently, there has been no reliable way to identify which horses have the gene associated with lethal white overo (LWO). Now, however, there is a molecular horse genetics test.
It used to be thought that the roan allele was an example of a dominant visible but recessive lethal allele. Breeding roans together was not advised and it was thought that embryos homozygous for roan were reabsorbed in very early pregnancy. This has now been shown not to be the case and some homozygous roan stallions have recently been identified using horse genetics molecular technology.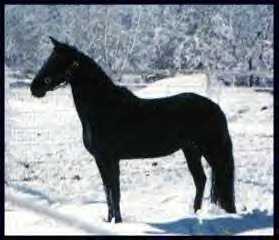 Epistasis is a gene interaction where an allele or alleles at one gene masks the phenotypic expression of alleles at a second gene. The phenotype is governed by the masking gene when both are present together in the genotype. A genotype that masks another's expression is said to be epistatic, while the gene whose expression is masked is said to be hypostatic. There are several examples of epistatic relationships in horse genetics, especially between genes that govern coat color.
Epistatic alleles may be recessive or dominant. If they are recessive then individuals homozygous for the epistatic allele are of the same phenotype regardless of the genotype at the second gene. Alternatively epistasis may result from the presence of a dominant allele, which also conceals the genotype at the second locus.
Recessive epistasis is shown by the extension and agouti genes, which account for the differences between black, bay, brown and chestnut horses. The recessive alleles of the extension gene are epistatic, alleles of the agouti gene are hypostatic. The alleles of the extension gene extend (E+) or diminish (e and ea) the amount of the black eumelanin pigment in the coat, with opposite effect on the amount of the red pigment phaeomelanin. The dominant alleles of the agouti locus cause the distribution of black hairs to be restricted to the points (e.g. lower legs, mane, tail and ear rims). Horses homozygous for the recessive allele Aa are uniformly black. Since there are no black hairs in chestnut horses the agouti gene can have no effect on the distribution of black in these horses. Thus the genotypes ee, eaea and eea conceal the genotype at the agouti locus: whatever the genotype at the agouti locus these horses are always chestnut (or sorrel), or some colour derived from chestnut, such as palomino or red roan.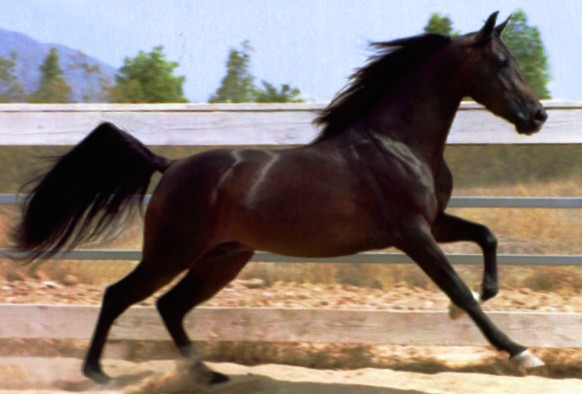 We can demonstrate the affect of epistasis on genetic ratios through a horse genetics example. Say we had a bay mare and stallion who were both of genotype E+e at the extension locus (E+ causes the production of the black eumelanin pigment) and of genotype AAAa at the agouti locus (which controls the distribution of black pigment).
The gametes may now be of four types, any of which are equally likely: E+AA, E+Aa, eAA or eAa. The possible outcomes of the cross can be seen from a Punnett square:
Genetic contribution from mare:
Genetic contribution from stallion:
E+AA
E+Aa
eAA
eAa
E+AA
E+E+AAAA
bay
E+E+AAAa
bay
E+eAAAA
bay
E+eAAAa
bay

E+Aa
E+E+AAAa
bay
E+E+AaAa
black
E+eAAAa
bay
E+eAaAa
black
eAA
E+eAAAA
bay
E+eAAAa
bay
eeAAAA
chestnut
eeAAAa
chestnut
eAa
E+eAAAa
bay
E+eAaAa
black
eeAAAa
chestnut
eeAAAa
chestnut
Instead of a 9:3:3:1 ratio there is a 9:3:4 of bay: black : chestnut. The agouti allele in the chestnut horses is irrelevant to the phenotype since there is no black pigment to distribute, either uniformly or in the points.
A horse genetics example of dominant epistasis is that of the gray allele. Horses with at least one copy of the allele GG go through the graying process regardless of the genotype at the other genes controlling coat color. They may be born chestnut, bay, buckskin or any other color but they will steadily turn gray over time, and eventually may turn almost white.
Because of the gray allele being dominant heterozygous gray horses can have foals of other colors, depending on their genotype for the other color genes. Consider, for example, that we had a gray heterozygous mare and stallion (both of genotype G+GG) who were also heterozygous for the allele e, that causes chestnut when homozygous (i.e. they are therefore both of genotype E+e). The gametes from each horse would now be of four types, any of which are equally likely: G+E+, G+e, GGE+ or GGe.
Genetic contribution from mare:
Genetic contribution from stallion:
GGE+
GGe
G+E+
G+e
GGE+
GGGG E+E+
grey
GGGG E+e
grey
G+GG E+E+
grey
G+GG E+e
grey

GGe
GGGG E+e
grey
GGGG ee
grey
G+GG E+e
grey
G+GG ee
grey
G+E+
GGG+ E+e
grey
G+GG E+e
grey
G+G+ E+E+
black, bay or brown
G+G+ E+e
black, bay or brown
G+e
G+GG E+e
grey
G+GG ee
grey
G+G+ E+e
black, bay or brown
G+G+ ee
chestnut


There is now a 12:3:1 ratio. The genotype at the extension locus makes no difference to the eventual phenotype as long as there is at least one grey allele present.