Smoke N Midnite Hawk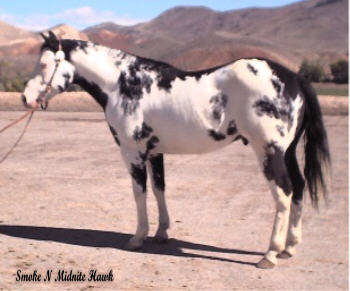 Smoke N Midnite Hawk's is described by his owners as "sweet, loving, and READY TO PLEASE!". He is an APHA Black Overo Stallion who is homozygous for black. His sire is "Smoke N Black Hawk", who was sired by "Smoke N Cotton, the APHA Leading Lifetime Working Cowhorse (1990 -1995). His dam is "Midnite Dreamer", also a black overo, with APHA points in Halter and Performance.
Thankyou to Roy and Lorena Parker Bechtholdt of Flying P Paints and Quarter Horses, Fallon, Nevada, for allowing me to display this photo of their superb stallion, who is standing at their stud.
Email: flyingp@charter.net
Website: