Search The Horse Genetics Website (opens in a new tab) 

About the horse-genetics.com Author
To all of you who have helped me make horse-genetics.com, which now seems to have woven itself into an integral part of my life, I'm truly grateful! Here's to you!

Hello to you all, and thank you for choosing to visit horse-genetics.com. I hope you enjoy the experience, enjoy learning interesting things and find it useful.

My name is Glynis and I have been interested in genetics, horses and animal breeding since I was a child. At age 11 I got my first bay cob called Ches, a quiet horse who taught me to ride. 
Later came a chestnut Anglo-Arab called Little John. He was anything but quiet, but taught me a great deal about horse behaviour and training. Without any real help I somehow turned him from a rearing tearaway into a quiet gentleman, who I will forever miss. 

Although Ches and John were both geldings I always dreamed of being able to breed horses. My then blacksmith, Lou Friar, owned a cremello mare that produced a string of palomino (and by luck filly) foals. I heard about this and was fascinated (but probably too shy to ask him much about it at the time). 
I had to find out how and why, and I knew that one day I would too own such a mare - somehow. For a long time though I stuck to breeding ducks, rabbits and the school mice!
| | |
| --- | --- |
| | After taking a degree in science and a doctorate in genetics I went on to become a professional theoretical and research geneticist, and a lecturer of genetics at the local university. This included co-authoring a genetics text-book and teaching some horse molecular genetics lectures on a Masters in Equine Science. I bred hamsters for a few years, using them to demonstrate genetics principles to my students (live exhibits only, and all of them well loved pets). It's surprising how much a few cuddly cute animals can inspire students to take an interest in a lesson! |
| | |
| --- | --- |
| For more than 20 years my life was one of work, work, work - and little else. Then, a few years ago, I decided it was time to change that, and re-indulge some of my former hobbies. I bought a beautiful Foundation bred Quarter Horse cremello filly foal called Kitty, thus fulfilling that ambition I had as a child. She is surely a fabulous and intelligent horse. I plan to breed from Kitty, to produce palomino pure-bred Quarter Horse foals. | |
I also bought the sweetest half Arab grey mare, Bess. She was a bit of a mess when I bought her, a teenager who'd mostly spent her life in a field, but with time and patience she became a super all round riding mare. I even taught to do the odd trick. 

Recently I imported another mare, Smart Little Emily, otherwise known as Tyra. She's a sweet natured chestnut mare from the US, and related to (and the spitting image of) Smart Little Lena, the US cutting stallion. 
She's small at about 13.3hh (possibly the shortest AQHA mare in the UK). 

Apart from the real horses I already had a great interest in their genetics, and so I started to develop horse-genetics.com. It's been a mammoth and on-going task, with horse genetics research moving apace, so that I'm ever catching up on the updating.

Being only a hobby, and with a son, 3 horses and a full time job the task of keeping up with horse-genetics.com has sometimes seemed an impossible one. The genuine interest and the enthusiastic help I've got has made the task, and the late nights, so much easier and pleasanter.

The generous, and often enthusiastically helpful provision of pictures for horse-genetics.com has been a lovely thing to witness. This is especially since I had no idea when I started out how on earth I would get sufficient photos to make the site work. 
Now it's sometimes difficult to keep up with putting them up, which is a good problem to have! People have been so kind, often running out to the field or barn to take photos of eyes, or markings or some other feature that helps to make the descriptions clearer.
I've had some most interesting discussions, especially with breeders, who have provided some fascinating snippets of information that one might not get from reading books and scientific papers. Thankyou to you all, you have provided the kind of distractions in life that one can enjoy!
Many thanks to David Adelson and Ernie Bailey for the photos (and thanks Ernie for being my sounding board on occasion!). 
Attendees of the 8th Dorothy Russell Havemeyer International Equine Genome Workshop, July 2009, at Ickworth, Suffolk UK.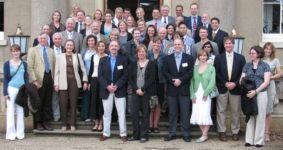 Best Wishes, and happy browsing, Glynis
Note: Anyone wanting to to make a great and successful hobby or business website, like horse-genetics.com, or to combine the two, should read this page.