Search The Horse Genetics Website (opens in a new tab) 

Shulay Faberge
Shulay Faberge , born in 1991.
This palomino stallion is by chestnut stallion Eldyr out of palomino mare Fayrelands Silver Lace.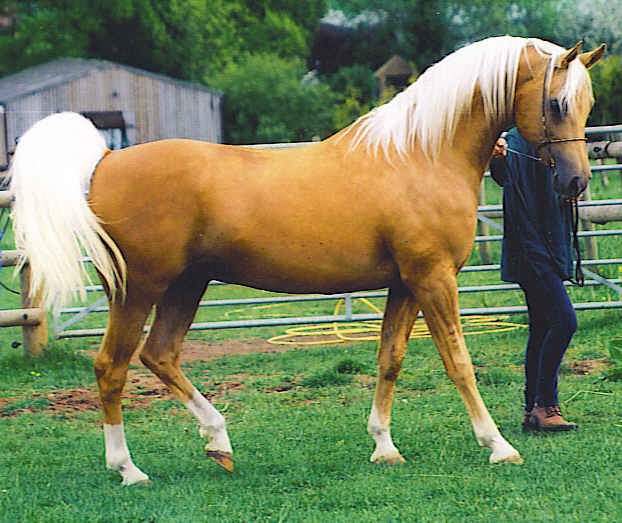 1994 British National Supreme Palomino Champion
1995 Supreme Southern Palomino Champion
Many thanks to Phil and Pauline Gribben for allowing me to display this photo of their fabulous palomino stallion. This elegant horse is a supreme example of the "ideal" palomino colour. What a stunner!
email: shulaystud@aol.com
This fine stallion is now standing at stud at Rainbow Arabians in Denmark.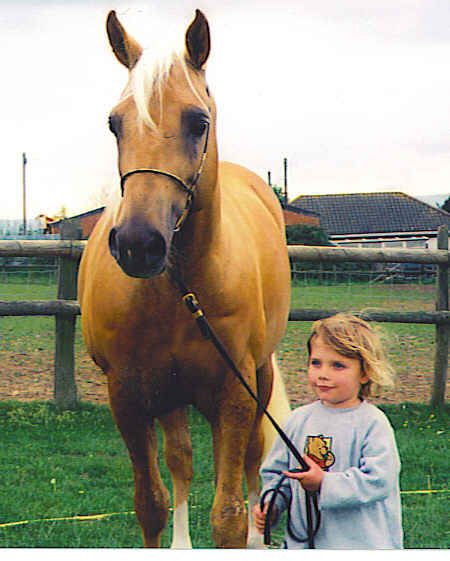 Beauty and Gentility
Shulay Faberge's dam is Silver Lace (by Quadeah out of Byrn Meurig Silver Mist). She was British National Supreme Champion in 1985 and British National Reserve Supreme Champion in 1988 and 1995. She's the only mare to be a Supreme National Champion herself and also the dam of two Supreme National Champions (the other one being Shulay Gold"N"Silver), as well as the grand-dam of two best yearling fillies at the Nationals (Shulay Fanci Gold in 1998 and Shulay Golden Temptress in 1999, also the Junior National Champion in 1999).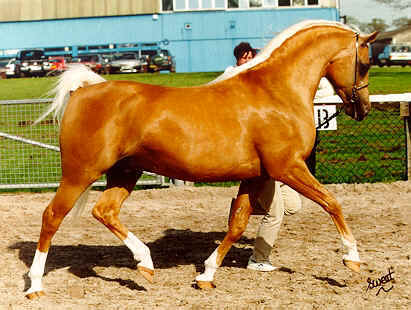 A Winner!
His sire is Eldyr, a superb chestnut stallion imported by the Shulay Stud from Arabica Belgium, as a foal in 1986.
He has Aswan bloodlines on both sides of his pedigree and has sired 3 British National Supreme Champions, as well as many other top class show winners.
Those interested in breeding palominos, especially for showing, should have a good look around the websites of the Shulay Stud (UK) and Rainbow Arabians (Denmark).
You might also want to visit these pages of the horse genetics website for more on palominos and their genetics:
horse color genetics and the C-locus
(scroll about two-thirds the way down the page)
the membrane associated transport protein (MATP) gene
(scroll about a third of the way down the page)