Search The Horse Genetics Website (opens in a new tab) 

Applewitch Pure Magic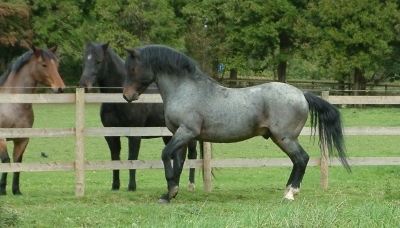 Applewitch Pure Magic is a heterozygous bay roan New Forest Pony stallion.
He has been successful in the show ring and is a sire of champion ponies.
Magic's non roan foals have been bay or dark brown.
This photo shows Magic talking to his mother Marydore Apple (also blue roan) and his sister Applewitch Clairvoyant.
Thank you to Mrs Kay Bailey of West Kington Stud (New Forest, UK) for allowing me to display this photo of her lovely stallion.
E-mail baileys@applewitch.fsnet.co.uk
More information at http://www.newforestpony.com/