Search The Horse Genetics Website (opens in a new tab) 

Stableexpress Horse Website
by Geoffrey Morris
(Staffordshire)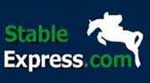 Stableexpress has been specially built as a free resource for all your equestrian needs. Whether you are looking to buy or sell a horse or pony, purchase some surprisingly low cost equestrian clothing & riding wear from leading equine fashion brands or find insurance for your horse or pony to avoid those large vets bills.

Stableexpress is a leading equestrian website offering news, information, results pictures and videos from the world of equestrinism.

Stableexpress also offer a variety of services tailored for the equestrian market and is teamed up with some leading equestrian business. Services offered are equine website design, tack room security, stable yard security and much more. We sell horse riding clothes, riding boots, jodhpurs, jackets, jumpers, gloves and hats. Stableexpress Online also sell rugs and riding accessories for both the horse and rider.