Bess: Kind, affectionate Arab x Welsh mare: now sold, but still missed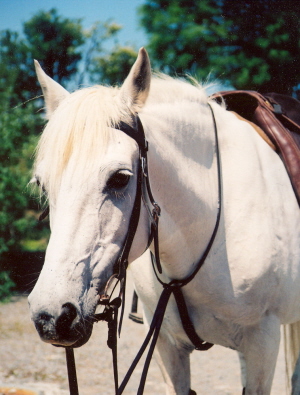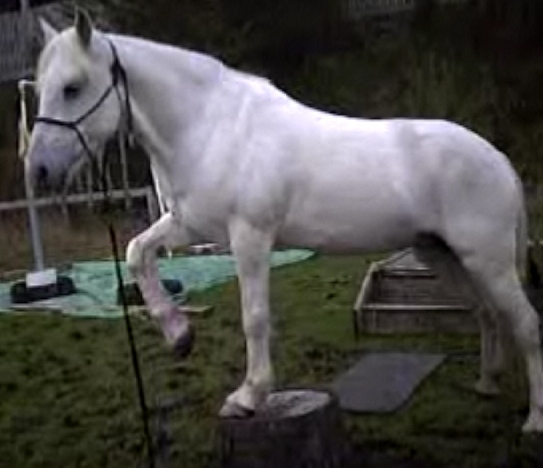 Bess is a sweet natured mare, approx. 14.1hh. She is quiet to handle, including for grooming, tacking up, rugging and foot trimming. I regularly clean her feet out while she is free in one of our fields, which makes her easy to catch. She's been in a horsebox several times and loads in a couple of minutes, travels well and backs out OK at the end of the journey.
To my knowledge she's had no illness or injuries, but she is open to vetting. She bred 3 foals for her previous owner.
On occasion Bess has been used to give lead-rein pony rides to various toddlers, children and adults! She's been lead reining James, my 3 year old son, since he was 18 months old. My young neice thinks she's the best horse in the whole World! She's very gentle with children and we've held James on her back while she's free in the field. He sat on Bess and stroked Tyra (one of my other mares)!
Bess is ridden unshod, including some roadwork. She is good with the blacksmith who shapes her feet every 6-8 weeks, when he also visits my other mares. My guess is that she'd be fine to shoe if this was needed, but I recommend trying her unshod first as this could save you a lot of money!
Her passport says Bess was born in 1989. However this was a guess by her previous owner, whose vet later said that she is more likely to be at least 3 or 4 years younger. She's certainly no OAP and many locals have assumed she's a youngster!
She recently started a little basic trick training with a pedestal, which she stepped onto in just three lessons (I'd already taught her to lift her front legs on command). In the same lesson she stood on the pedestal with one front leg lifted (see picture).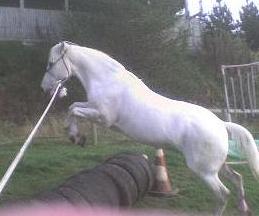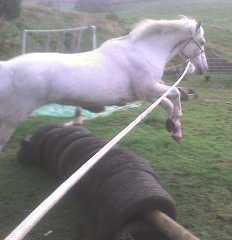 Fun ride for confident teenager or small adult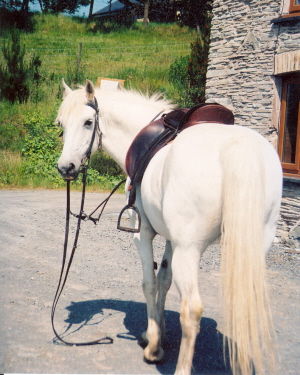 If I had more time and money I would not be selling Bess as I love riding her. But with my other two mares recently broken, and a young son, I simply can't give them all the time they deserve! Bess came to me as a nervous horse who stargazed to evade the bit. She has been ridden regularly and sympathetically for about 3 years, and has transformed into a willing and responsive little trail horse. I recently took her on a couple of 4-5h rides from Llyn yr Oerfa, Ystumtuen, into the Rheidol Valley (via Bwa Drain and Ty Cam). We went through gates, fields of cattle, streams & past 2 stallions (one of whom was whinnying and running around), with no trouble!
Bess has done some ground work in hand and her side pass, backing up, turns on forehand and hind-quarters, and ground-tying are coming along quite well. She can side pass over a pole and is now learning to side-pass from the saddle. She walks over plastic, tarps. and a mattress no problem. Also under a curtain of ribbons and through a noodle wall. She is jumping over small jumps on the lunge (she lunges well, responding to voice commands and body language). I have also jumped her over small jumps in our arena, but I'm not much of a jumper myself!
While riding Bess has always ignored traffic, windmills, sheep, dogs and other horses (we pass many on every ride). I used to lead her past pigs, which she's not keen on, but now I can ride her past.
I love riding Bess out as she will move from a walk to a canter, and then back to a walk, without a fuss and using a minimum of aids. This allows us to make use of little bits of verge that you wouldn't fit a bigger horse on! She also can do an amazing extended trot when she gets going.
I haven't ridden her in heavy traffic, but someone else who had her on loan for a while did. They said she was really good and didn't bat an eyelid at lorries, or when a combine harvester passed rather close!
Since Bess is very sensitive she knows quickly if her rider is nervous and this can make her nervous (but she is not bolshy). Therefore she needs a reasonably confident rider. On the other hand she knows what you want almost before you do, and is eager to please! She needs someone who'll stay out of her mouth. She responds best to a relaxed rein contact (more typical of western riding). I don't use a riding crop on her and I don't want her to go to someone who thinks every horse problem should be sorted out by resorting to a whip!
A sweet little horse who deserves a kind & caring home!
Bess is for sale for £1100 ono. For £1200 with a black leather Western saddle, or a fairly new English saddle, if these aren't sold seperately beforehand. She must go to a caring and reasonably knowledgeable home where she will be with other horses or ponies.