Search The Horse Genetics Website (opens in a new tab) 

Liver Chestnut Arnie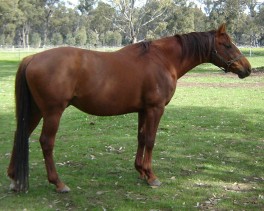 Liver chestnut ASB Thoroughbred stallion Arnie.
Arnie is an unraced stud book stallion with a temperament to die for and good looks as well! His sire is a champion American race horse who won numerous races before being retired to stud.
Arnie is at Broken Creek Appaloosa Stud, Devenish, Victoria.
Thanks to John & Karen Tobias for letting me display this photo of their stallion.
Email: tobiaskaren@hotmail.com
Website of BROKEN CREEK APPALOOSA STUD
In horses the darkest shades of chestnut are called liver chestnut. Sometimes liver chestnut horses have a very dark mane and tail and you might mistake them for bay. However if you look at their lower legs they are not darker than the body colour, and may actually be lighter, as is often the case in chestnuts of all shades.