Burnham Green Alfie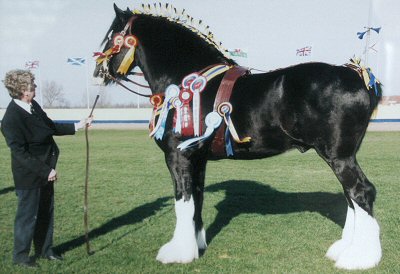 "Burnham Green Alfie" is an English National Shire Show-winning stallion now standing at Black Forest Shires & Gypsy Horses, Colorado. This awesome 18.3 hand black stallion came off of his farm for his FIRST show ever at the National Shire Show in Peterborough (Cambridgeshire, UK) in 2003 (which co-incidentally is near to where the author of this site grew up!). Alfie took the award for Grand Champion stallion before the day was done (in competition with about 50 other colts and stallions)! That was Alfie's first and only show, and he's been a breeding stallion since that time. Alfie obviously is of the thought that "if you are going to do it once, you should do it right"! Thanks to Jeff and Christine Bartko for sharing this photo of their superb stallion.
Alfie is a black sabino, with sabino being fixed in Shires.
e-mail to bfshires@aol.com.
website: