Mararoa Bobbies Prints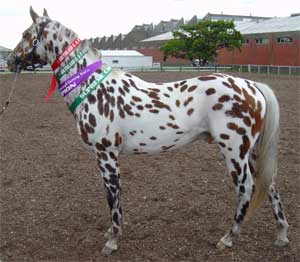 Mararoa Bobbies Prints is a 15.1 hh bay leopard spot appaloosa stallion. He is was a National Appaloosa show winner of the colt foal class and the foal futurity in 2000.
Many thanks to Jeanine McDonald of the Mararoa Appaloosa Stud in Invercargill (South Island, New Zealand) for the use of this photo.
Email: stanmcd@ihug.co.nz