Kya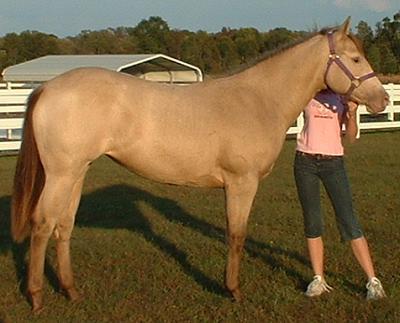 According to her owner "Kya means "diamond in the sky" - and she sure sparkles like a star!"
Kya is an very unusual filly, carrying not only the rare champagne dilute gene, but also a cream dilute gene on a seal brown base(confirmed through testing). The ICHR designated Kya as the first ever confirmed 'sable cream' champagne! On average about 3/4 of her foals will be dilute.
Kya's eyes are amber and her coat is an unusual light shade, with chocolate brown legs, mane and tail, and light blonde highlights. Of course with that pretty metallic champagne glow - she's simply stunning! Kya is triple-registered: AQHA, ICHR (International Champagne Horse Registry), and NFQHA, with 86% foundation blood.
A special thankyou to Tara of Rising Moon Ranch, Scottsdale, Arizona for sharing this and several other photos of her superb and unusual horses. She will shortly have two classic dun (or grullo champagne) stallions at stud.
website: