Go Skippa Rock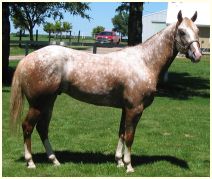 Skip is a chestnut snowcap appaloosa with four stockings and a blaze. He is a Grand Champion Stallion at standing at MJ Stables in Hartley, Iowa.
Thanks to Mike and Jeri Johnson for allowing me to display this lovely photo of Skip.
E-Mail: mjstable@tcaexpress.net Website: http://mjstables.com/
Jeri made an interesting observation that supports the idea that male appaloosas are more likely to show color than females (see the text above for more discussion of this). From 2 foal crops 100% of Skip's colts were colored, but none of his fillies.
I'd be really interested to hear from anyone else noting a similar thing. It'd also be nice to know if fillies show minimal characteristics, such as striped hooves. Email: gdgiddings@hotmail.com