Rare silver dapple Morgan mare Foxton Frosty Dawn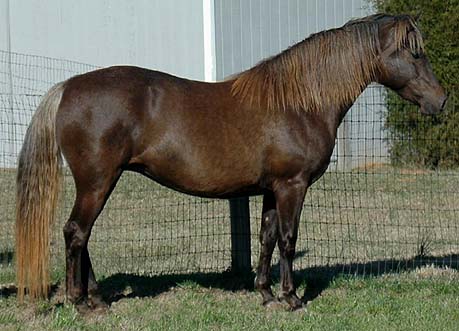 Genetic testing shows that Frosty is homozygous for black (EE). This proves that she is not a chestnut, as she might appear with her light mane and tail. It also indicates that she will never produce a chestnut based foal, no matter what color stallion she is bred to. Her first foal, a bay silver dapple colt called Unconventional, can be seen in the previous photo. He is currently for sale (August 2006). Thanks to their owner Laura Behning for sharing these pictures with us.
Frosty and Unconventional have provided hair samples and photographs for research occurring at Uppsala University (Sweden), which will hopefully lead to a test for the gene.
A very endearing feature of Frosty is her love of water, as described by her owner Laura: "Frosty possesses a highly developed sense of self confidence. She greets visitors with a nicker and loves attention and scritchies. Like my gelding Patented, she has a love of water, and the two of them will often "volunteer" for showers on a hot day, turning themselves this way and that so that every part of their bodies can be thoroughly soaked. Without a willing human servant to cool her off, Frosty will play in the water trough!" What a lovely mare!
email: morgans@mindspring.com.
website:
http://www.brookridgemorgans.com/
Lauras Morgan Colors website: