Search The Horse Genetics Website (opens in a new tab):  

Africas Rhythmic Roc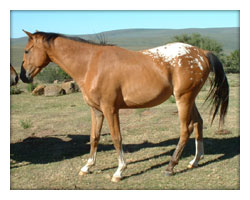 Africa's Rhythmic Roc is a lovely 2001 colt by Africa's Painted Sky out of TB mare Rhythmic Dancer (Del Sarto lines). He shows a white spotted blanket over his chestnut coat.
Many thanks to Robyn Conroy of Africa Appaloosa Sport Horse Stud for sharing this photo with us. 
Email: lowestof@intekom.co.za